I wish to have a custom model train set
Whitaker
11
cancer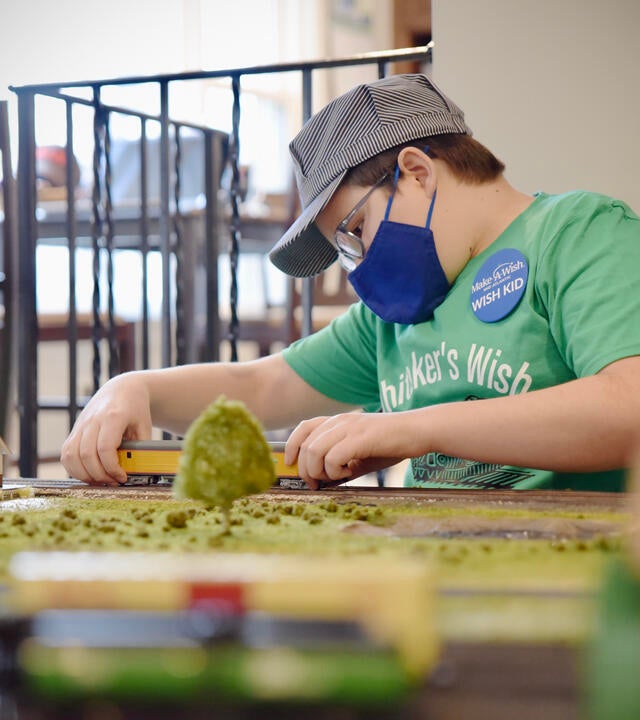 All Aboard! Whitaker's wish for a custom train set
As he burst open the front door to his house, 11-year-old wish kid Whitaker rushed up to his room saying, "I'm not looking yet!" Mark from Ace Services LLC was in Whitaker's living room, making the final touches on his wish: a custom model train set.
Whitaker's obsession with trains began at a very young age. He was fascinated by the operations that make the locomotives work. He loves building his own mock buildings and train sets out of Legos. Throughout his cancer treatment, reading books about trains, learning train facts and playing with toy trains always brought him great comfort. It was no surprise that when his Make-A-Wish Mid-Atlantic wish granters asked Whitaker what he wanted for his wish, he said without hesitation his own model train set.  But not just any train set – he wanted a custom train set modeled after his hometown in North Carolina. Whitaker's family relocated to Alexandria, VA and he missed the picturesque small-town train depot. He quickly set to work sending the Make-A-Wish team drawings and mock-ups that he hoped could be transformed into a replica.
Mark, an avid train connoisseur himself and the owner of Ace Services LLC, was impressed by Whitaker's extensive train knowledge. When Make-A-Wish Mid-Atlantic ask Mark to help make Whitaker's wish come true, he went above and beyond to create the set of Whitaker's dreams. Over many months and hundreds of hours, Mark painstakingly made tiny sculptures, molded large set pieces, painted landscapes and cut blocks of wood that could support the huge structure. He even added unique touches - such as putting real coal in the freight train cars - to turn Whitaker's wish into a perfect design made just for him. Since the finished product was extremely large and heavy, Mark then rented a storage truck and drove it cross-country from his home in Missouri to Whitaker in Virginia. Mark carefully brought it into Whitaker's house two days before the wish reveal took place, to allow for some minor fixes to be made from the long drive.
Whitaker waited eagerly at the top of the stairs until Mark gave the ok that everything was ready. Wearing a matching conductor hat with Mark - embroidered with the Make-A-Wish Mid-Atlantic logo and Whitaker's name from Fully Promoted Bethesda - he dashed downstairs to see his wish finally come true. He was blown away when he saw his train set for the first time. He immediately became completely focused in on Mark as he walked him through every gear on the train's remote control. The two of them went into their own world, experimenting with all the remote's features, switching the train track's path and pointing out all the hometown details. After about an hour of intense play when his mom finally made him take a break, Whitaker said, "I know what I'm going to do for the rest of the night – play with my train set!"