I wish to have voice lessons and record songs
Keren
10
cancer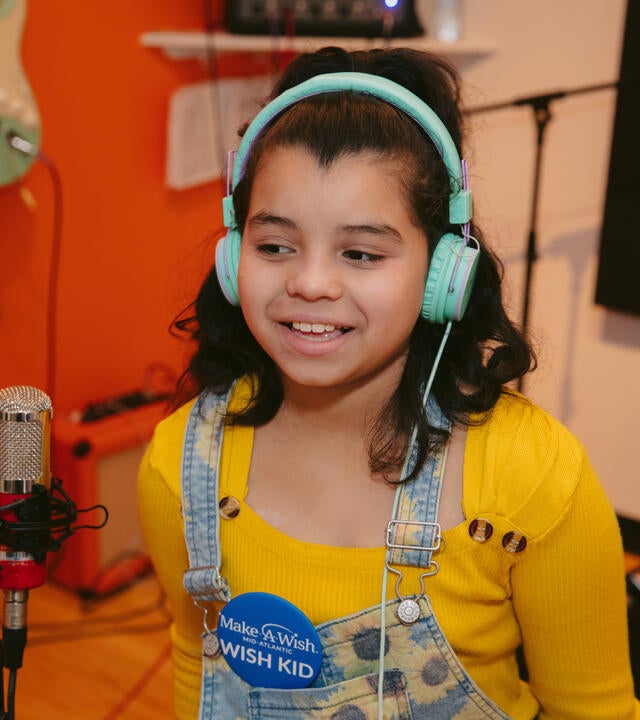 Becoming a superstar singer - Keren's wish
Music has unique healing powers, and nobody knows that better than 10-year-old wish kid Keren from Manassas, VA. Keren's passion for music, - particularly pop and gospel - allows her to express herself with confidence. She comes from a musical family and sings in church choir. Her sister, Keily, was diagnosed with a brain tumor and her wish to have a guitar was granted last year.
Keren's journey through cancer has been a rough one with many treatment procedures, difficult days and even the loss of one of her legs. Through it all, Keren never stopped singing and music became her escape.  Singing is a creative outlet for her emotions, making her worries disappear and her heart soar with joy.
Keren wished to have voice lessons and record her own songs. After taking a month's worth of lessons at Bach to Rock music school in Bristow, VA, everything built up to her wish day, where she would have the chance to record any songs she wanted. She was nervous going inside the recording booth, putting on her headset and stepping up to the microphone, realizing all her hard work came down to this moment. With the help of her vocal coach, Katie, Keren was able to shake out all her jitters like a true professional and focus on what made her truly happy - singing. Once she started, a huge smile spread across her face as she overcame all her nervousness and began to revel in the experience.
Feeling relieved after her recordings were finished, Keren was greeted by her family, friends and Bach to Rock staff she'd grown close to, cheering for her as she walked into the performance hall to find a music-themed party awaiting her! Keren grinned from ear to ear as she paused to take in the moment and let the love in the room surround her. Keren's party was fit for the superstar she is, with her favorite foods of Chick-fil-A and chocolate cupcakes, to all decorations in her favorite color, purple. Her vocal coach presented her with a certificate of competition and said working with Keren was a "true pleasure." Keren was so excited to open her gifts and looked shocked with each one she opened. She received a purple portable microphone to belt out with at home, a songwriting journal to create her own lyrics and even a replica Grammy award awarding her "best singer/songwriter".
As she looks toward her future, Keren will be reminded of the determination, joy and pride she found within herself through her wish journey, with renewed hope to reach for the stars!
A special thank you to Bach to Rock Bristow for making Keren's wish come true and Chick-fil-A Bristow for catering Keren's wish day celebration.