I wish to stay aboard Star Wars: Galactic Starcruiser
Katie
12
rare disorder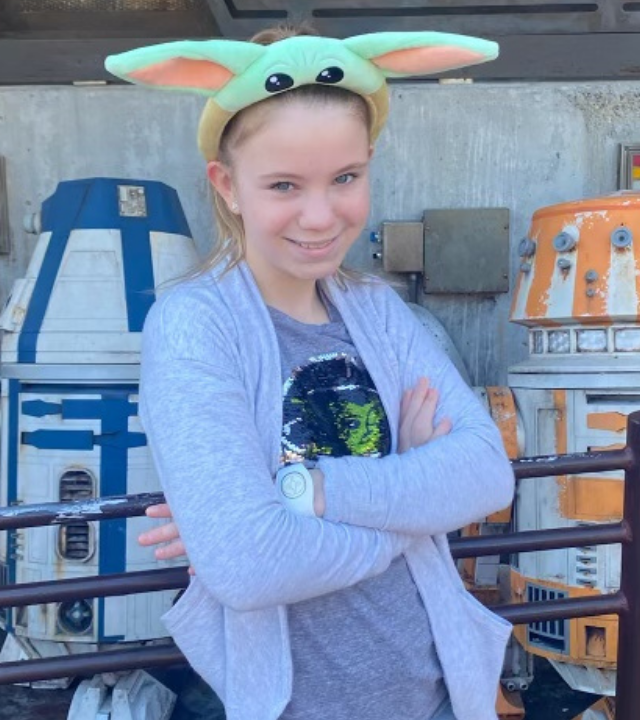 The Force is with her: Katie's Story
When wish kids dream big, their imaginations can take them anywhere – even to a galaxy far, far away! Twelve-year-old Katie from McLean, Virginia has been a huge Star Wars fan ever since her cousin first introduced her to the iconic movies. After her wish granters told her she qualified for a wish, she thought long and hard about what would bring her the most joy. When her aunt mentioned to her that a completely immersive Star Wars adventure was coming to Walt Disney World Resort, Katie knew she found her ideal wish. She wished for a stay at Star Wars: Galactic Starcruiser.
Since it was not yet open to the public, neither Katie nor her mom fully expected the dream to become a reality. "When we received your email that Katie received a wish," her mom, Cheryl, said with a grin, "it knocked her socks off! I screamed, 'her wish is being granted!' We were so excited and couldn't believe it. We still can't!"
Katie was part of an exclusive group of Star Wars fans, one of 22 Make-A-Wish families, to stay aboard the Halycon starcruiser and soak in all the magic before it officially opened in March 2022. "We're a part of Disney history and Make-A-Wish history!" Cheryl exclaimed. Katie's out-of-this-world trip was a moment of celebration during a challenging medical journey. Through her lifelong battle with a rare disorder, she has needed multiple intense surgeries to her legs and skull, resulting in extensive physical therapy. She couldn't walk for about two years. She luckily regained her mobility right before her wish date. "It really happened at the perfect time", Cheryl said. "It marked the end of some really dark times. It gave us that light of something to look forward to."
---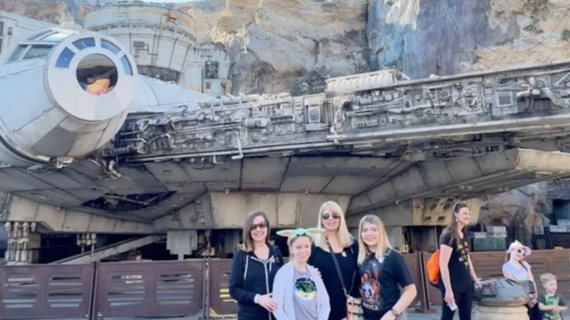 During Katie's two-night stay in "space" she felt like she was truly living inside the Star Wars story. "My favorite part was building a lightsaber and lightsaber training," she said. While on Batuu, she built a blue lightsaber with a customized handle and had a group cheering for her as she completed lightsaber target practice aboard the Halycon starcruiser. "I also liked going on an adventure with Chewbacca and the Storm Troopers were really funny." She dressed up as one of her favorite characters, Rey, while onboard and enjoyed meeting new characters, trying all the galactic goodies, and making memories with her family.
She and her family were then treated to an excursion to the planet Batuu at Star Wars: Galaxy's Edge in Disney's Hollywood Studios where Katie was able to pilot the Millennium Falcon on the attraction Millennium Falcon: Smugglers Run. After disembarking the Halcyon starcruiser, Katie's fun continued with a few more days at the Disney parks and a stay at Give Kids The World Village. Dessert-obsessed Katie admitted she ate ice cream every day and loved every second of it!
Thinking back on her wish makes Katie "super happy." "It was the best experience I've ever had," she said. As Katie's treatment journey continues, she will be able to look back on her wish with happiness and hope for her future to take on her toughest moments. "We're just thankful. You made a difference in our lives. We'll never forget that; the whole experience we will never forget. We will carry this with us for the rest of our lives," Cheryl said. "It's not lost on us how special this was."