I wish to go to Hawaii
Juliet
10
blood disorder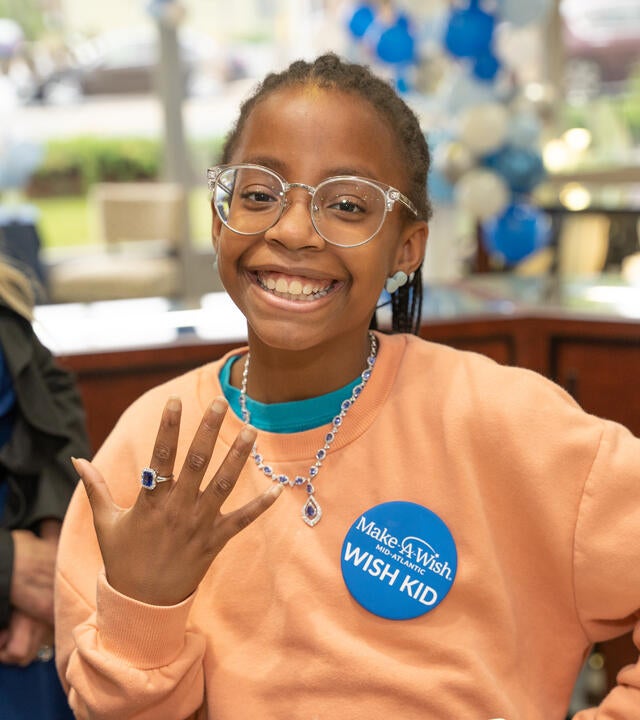 Juliet's Jewelry Experience
When a wish kid's local community steps up to support them, it makes the child feel cared for and supported.
Jewelers for Children was founded in 1999 by the U.S. jewelry industry with the mission of helping children in need. Their support of Make-A-Wish throughout the years have made many kids' dreams come true, including Juliet, who wished to travel to Hawaii.
Juliet is a 10-year-old from Bel Air, Maryland who has courageously lived with a blood disorder. Throughout her treatment and recovery, she and her mother, Bethany, began making clay jewelry together which they then sell and donate the funds towards research for Sickle Cell Anemia.
Inspired by Juliet's story, Jewelers for Children turned to one of their members to host an extra special send-off. Saxon's Diamond Centers in Bel Air, Maryland, offered to provide Juliet a unique behind-the-scenes jewelry experience!
Juliet and her mom were at a loss for words when they entered Saxon's and were so excited to see how diamond jewelry is made. As Juliet opened her gifts of a jewelry box in her favorite color, blue, and a pair of diamond earrings from Saxon's, her mom looked on with pride and started to tear up. "It's been a difficult couple of years, with treatment and being in-and-out of the hospital. We really appreciate this; thank you so much," Bethany said.
Juliet and her mom toured the back rooms of the store with their Saxon's guide for the afternoon, Carrie. There, Juliet was able to meet the jeweler who welds a lot of Saxon's pieces and see a demo on how diamonds are chosen and cut. Juliet got to look at a diamond underneath a microscope, and Carrie explained to her everything she was seeing. For the last portion of the tour, Carrie showed her various cases in the store and let her try on some very fancy and sparkly pieces. Juliet loved trying on the matching set of sapphire diamonds and earrings, and especially liked the fun, tropical pieces of Denny Wong, since she would soon be experiencing his Hawaiian inspiration in real life on her wish trip!
As sweet Juliet thanked everyone at Saxon's once again and went to pack up her gifts, flowers, and Hawaiian cookies in the car, it was evident that she felt overwhelming love in the room. "I have this feeling that the wish trip is going to change our lives, that we will come back from it as changed people, for the better," Bethany said. As their car pulled away, Juliet donned her big signature smile and reached out the window to wave to everybody at Saxon's, with excitement flowing about her upcoming wish trip to the Aloha state and knowing that her loved ones and community are with her every step of the way.
A very grateful thank you to Saxon's Diamond Centers in Bel Air for hosting Juliet and her family and to Carried Photography for capturing her special moments. A heartfelt, ongoing thanks to Jewelers for Children for making Juliet's, and so many other children's wishes, come true.