I wish to design athletic apparel and give the proceeds to CHOP
Katrina
18
heart transplant survivor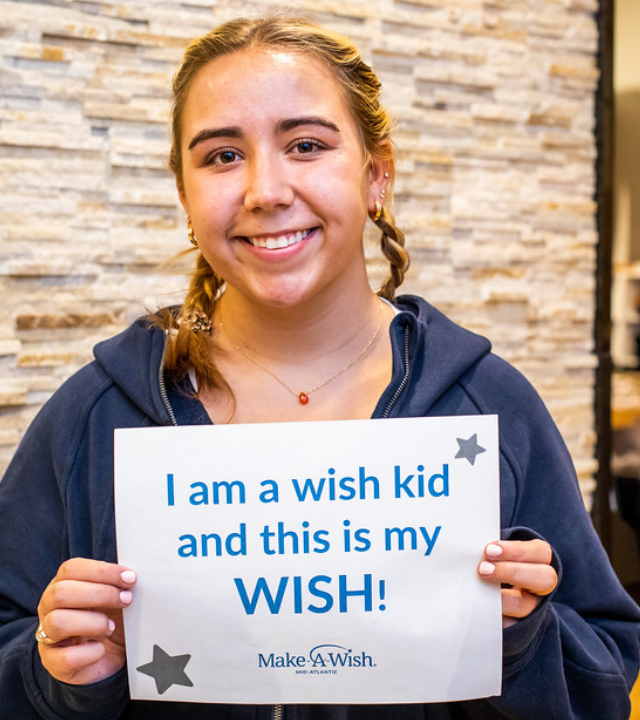 Katrina gives back with her dream designs
When 18-year-old Katrina from Bethesda, MD, was considering what she wanted her wish to be, she decided to combine her passions for fashion and giving back. As a heart transplant survivor, Katrina generously wanted to pay it forward to Children's Hospital of Philadelphia (CHOP) for giving her a second chance at life, so she wished to design her own athletic apparel, and have the proceeds be donated to them. The Make-A-Wish Mid-Atlantic team was able to partner with one of Katrina's favorite brands, lululemon, to grant her a wish she would never forget! 
With the help of the lululemon design team, over the course of a few months Katrina learned the clothing creation process and was able to design custom leggings, a tank, and a t-shirt. "It was an honor to get to work with Katrina— seeing the thoughtfulness she brought to learning about our design process and creating her custom piece was inspiring", said Kate Warrington Williams, lululemon Vice President, Women's Design. "Katrina is a truly special person— so full of light and joy. We had so much fun together! I know she has a very bright future ahead, and I am so grateful to Make-a-Wish for connecting us." 
Katrina's wish then came true in October 2021 at the Philadelphia lululemon store in an after-hours event, where her friends, family, and other supporters were treated to a yoga class and the grand unveiling of Katrina's designs. "Thank you Make-A-Wish Mid-Atlantic and lululemon for making this a true 'once in a lifetime' unforgettable experience. Since August, the lululemon teams have taken me through this design journey which I have learned more than I can imagine. Thank you to CHOP from the medical team to security for the amazing care and becoming my extended family and feeling like a second home," said Katrina.
The star and moon elements of the t-shirts were inspired by the images in the CHOP elevator Katrina frequented for treatment and included a special tribute to her heart donor. Her 50 limited-edition shirts sold out immediately, and between all her products, Katrina ultimately raised thousands of dollars for CHOP! Described as a girl who never complains about her constant medications and medical appointments, Katrina's optimism and dedication to making a difference shined through in her wish. 
"Thank you Make-A-Wish Mid-Atlantic and lululemon for making this a true 'once in a lifetime' unforgettable experience."
Katrina