I wish to give to 5 community organizations and inspire others
Taylor
18
kidney disease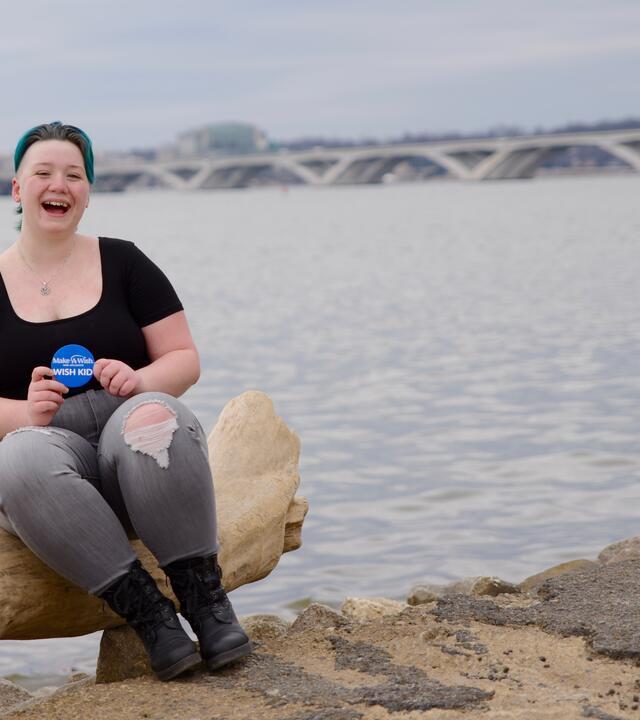 A Wish To Give and Inspire - Taylor's Wish
When you look at wish kid Taylor, you can already tell that she is not one to be shy and reserved. At first, you are drawn to her bright blue hair and her unique sense of style, and once you have a conversation with her, it is her personality and confidence that really shine through. Taylor's journey has not always been an easy one, but she is the first to tell you that it has shaped her into the person she is today. The Mechanicsville, Maryland native was born with a rare condition that led to kidney disease, which will be a lifelong battle for her. It's been a long battle so far – resulting in over a dozen surgeries to date, daily medications and the knowledge that she will eventually need to undergo a kidney transplant. She admits it has not always been easy, sharing, "I always felt that growing up was a struggle because I couldn't do certain things that other children would do. I would get tired a lot more easily and I was on medications at a really young age." Still, Taylor is determined to stay positive when it comes to her medical battles – and it's those battles that have given her the outlook on life that led to her wish.
After being referred to Make-A-Wish® Mid-Atlantic when she was 17 years old, Taylor immediately knew that she wanted to use her wish to make a difference in the world. She began to think of the things she could do to impact the world around her and inspire others to follow in her footsteps. When she found out her wish to give to five community organizations would come true, Taylor was thrilled! She knew she wanted to give to organizations that would make a difference for other children and their families – eventually deciding to use her wish to give to Save the Children, World Vision, National Kidney Foundation, Children's Music Fund and Make-A-Wish Mid-Atlantic. For Taylor, the idea of using her wish to give came naturally. Now, she's hoping to have a ripple effect. She hopes that others will hear her story and be inspired to make a difference in the community around them as well. Her philosophy? That everyone can have an impact – no matter how big or small their gift. "The more people that give, the more people will connect with each other and understand that it's not just about them, it's about everybody. I just feel like not enough people comprehend that maybe they have it good but other people don't. That's just the way it is. But if we help each other, people who get that gesture of kindness, they're going to be kind and then everybody is going to be kind to everybody else."
When it comes to her wish, Taylor says she felt the impact from the day she found out she qualified, sharing that she was elated to find out her wish would be granted. Now, she wants other children like her to feel that same relief. She says her wish will have a lasting impact on her, and she's committed to making sure EVERY eligible child can feel the same. Taylor wants to ensure each child's wish is not just a moment in time, but rather a memory that will last them the rest of their lives, carrying them through the tough times and shining as a beacon of hope even on the darkest of days.
I do feel that if people just choose to give and choose to give to others then we can live in a more peaceful world. That way, others can feel more safe and feel more loved.