I wish to be on a billboard
Abi
4
blood disorder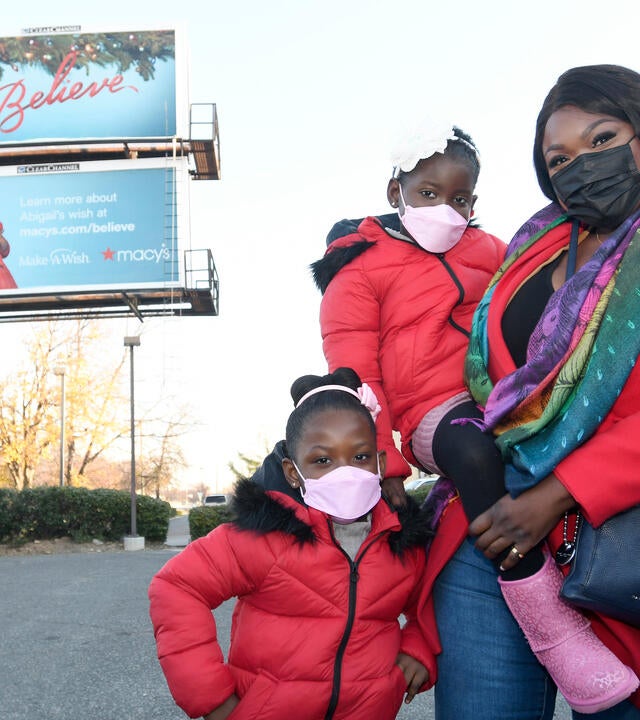 A Model in the making - Abi's Billboard Wish
What makes a stellar person have the "it" factor is a combination of amazing characteristics. Four-year-old Abi from Laurel, MD, without a doubt has "it," with her never-ending list of admirable traits, such as strength, confidence, and compassion. Abi and her twin sister were born premature, so, on the advice of her nurse, Abi's mom started taking frequent pictures of the girls to track their growth of a blood disorder.
Abi's mom matched Abi and her twin sister, Vivi, in identical outfits, and they started posing for her in front of the camera. The pair bonded through this passion for modeling at home, and then eventually for their own Instagram page.
When Abi's prognosis for a blood disorder revealed she would need a bone marrow transplant, Vivi matched as a donor, and selflessly donated her bone marrow to her sister.
When the Make-A-Wish Mid-Atlantic team met with Abi post-transplant, Abi wished to be on a billboard for one of her favorite stores – Macys. She was also excited to honor Vivi's support and have her model with her. When Macy's heard of Abi and Vivi's story, they jumped to make the girl's wish come true and sponsor Abi's billboard, so the girls traveled to New York City for a professional photoshoot.
Abi and Vivi had the time of their lives posing and sharing in this unique experience together. Abi's billboard was revealed a few months later and the sisters had a much-deserved day of the star treatment. The girls arrived in style via limo for their grand billboard unveiling; they were wowed at how huge it was. Macy's rolled out the red carpet for them afterwards to celebrate, and supporters cheered as Abi and Vivi entered the store holding hands. The sisters danced to the music before stopping for pictures, interviews and then having their own autograph session. "I'm a fashionista!" Abi told one reporter.
After some gifts and letter writing to Santa to support Macy's (macys.com/believe), everybody left Abi's wish day with hope in their hearts and amazement at the power of sisterly love. Now Abi smiles at passing cars from her billboard in Maryland, inspiring commuters with her story of joy and resilience.
Donate today to help wish kids like Abi in our local community.