I wish to have a golf cart
Sophia
10
cancer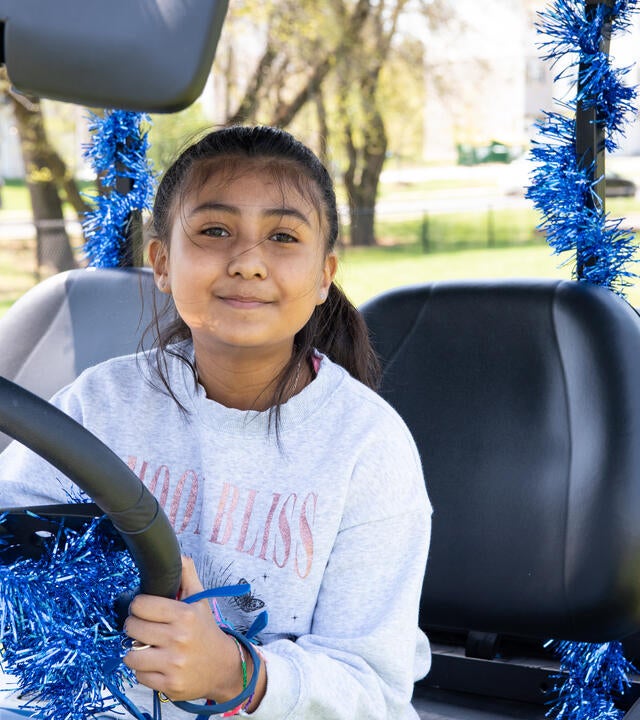 Ten-year-old Sophia is a kind-hearted, happy girl who thrives off her relationships with her loved ones. During her challenging medical journey with cancer, Sophia retained her sweet disposition and didn't let anything get her down. When Make-A-Wish Mid-Atlantic first told Sophia she would be receiving a wish, she knew she wanted her close-knit family to enjoy whatever she chose just as much as she did. Sophia's hometown of Frederick, MD has lots of land to go exploring, so Sophia wished to have a golf cart, complete with 4 seats so her whole family could ride on it together.
Sophia's wish reveal occurred on World Wish Day 2022, the anniversary of the first granted wish that inspired Make-A-Wish's founding. The date was kept a secret from Sophia, so as her family led her blindfolded to a nearby park where her golf cart awaited her, she had no idea that a crowd of family, friends and supporters awaited her to surprise her with her wish.  
When her parents removed the blindfold, Sophia was shocked to see a huge group of people cheering for her! She was frozen for a moment in disbelief with a big smile on her face while she processed that her wish was coming true in that moment. She immediately ran to greet her cousins before they all walked over to check out her new golf cart for the first time. Sophia's golf cart was made possible by the generous support of Jake's Golf Carts, and it was painted her favorite color, blue, and adorned with stars and blue decorations. 
After being shown the controls, Sophia was more than ready to sit in the driver's seat and take her wish for a spin. She circled the park like a pro and said, "I never thought I would get to drive a golf cart before I turned 11!"
She hugged each of her Make-A-Wish volunteers and staff members who helped make her wish become a reality, and enjoyed a sunny afternoon full of cake, laughter and music. When it was time to say goodbye, her family piled into the new golf cart and her dad drove it down the street to their home, where Sophia will no doubt create many joyful memories with it for years to come.
Sophia's wish illustrates the healing impact of a wish on the whole family through the medical journey. According to the findings of the 2022 Wish Impact Survey, nine out of 10 wish parents said that a wish relieved their family from traumatic stress and that their child's wish experience strengthened their bonds with loved ones. Learn more about the research demonstrating how wish-fulfillment promotes mental and emotional well-being for children and their families who are facing trauma stemming from a critical illness in the 2022 Wish Impact Survey. 
A special thank you to Card My Yard Frederick and photographer Dianna Wissink for assisting Sophia's wish reveal.